Circumpolar Arctic NDVI and Phytomass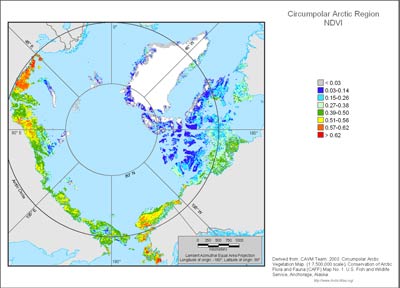 The normalized difference vegetation index (NDVI) shows relative maximum greenness. This image was created from the same data as the AVHRR base image. Vegetation greenness is calculated as: NDVI = (NIR - R)/(NIR + R), where NIR is the spectral reflectance in the AVHRR near-infrared channel (0.725-1.1 µm) where light-reflectance from the plant canopy is dominant, and R is the reflectance in the red channel (0.5 to 0.68 µm), the portion of the spectrum where chlorophyll absorbs maximally. The NDVI values were grouped into eight classes that meaningfully separate the vegetation according to biomass. Red and orange areas in the NDVI map on the left are areas of shrubby vegetation with high biomass, and blue and purple areas are areas with low biomass.
The relationship between NDVI and aboveground plant biomass was calculated from clip harvest data (Fig. 3). The aboveground plant biomass map was created by applying this regression equation to the AVHRR data (Walker et al. 2003). The NDVI and biomass maps aided in the delineation of the vegetation units on the front side.