Circumpolar Arctic Vegetation Unit W1

Barrens: B1B1. Cryptogam, herb barren - B2B2. Cryptogam barren complex (bedrock) - B3B3. Noncarbonate mountain complex - B4B4. Carbonate mountain complex || Graminoid Tundras: G1G1. Rush/grass, forb, cryptogam tundra - G2G2. Graminoid, prostrate dwarf-shrub, forb tundra - G3G3. Non-tussock sedge, dwarf-shrub, moss tundra - G4G4. Tussock-sedge, dwarf-shrub, moss tundra || Prostrate-shrub Tundras: P1P1. Prostrate dwarf-shrub, herb tundra - P2P2. Prostrate/hemiprostrate dwarf-shrub tundra || Erect-shrub Tundras: S1S1. Erect dwarf-shrub tundra - S2S2. Low-shrub tundra || Wetlands: W1W1. Sedge/grass, moss wetland - W2W2. Sedge, moss, dwarf-shrub wetland - W3W3. Sedge, moss, low-shrub wetland
Hierarchy of Geobotanical Vegetation Map Units (Walker DA 2002)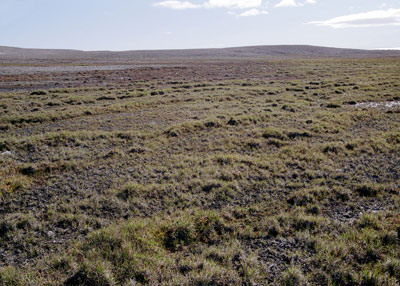 W1. Sedge/grass, moss wetland
Wetland complexes in the colder areas of the Arctic, dominated by sedges, grasses, and mosses. Subzone B and Subzone C.
Detailed Description
Wetland complexes of Subzones B and C, including water, low wet areas and moist elevated microsites.
Area: 101 x 1000 km2.
Representative Syntaxa
Communities of the class Scheuchzerio-Caricetea; e.g., Poo arcticae-Dupontiae fisheri Matv. 1994 (Taimyr Peninsula), Meesio triquetrae - Caricetum stantis Matv. 1994 (Taimyr Peninsula), Eriophoretum scheuchzeri Fries 1913, Caricetum rariflorae Fries 1913, Arctophiletum fulvaeThannh. 1976 (Svalbard), Caricetum stantis Barrett & Krajina 1972.
Dominant Plants
Sedges, grasses, mosses, and forbs. Grasses are more important in Subzone B wetlands than in Subzone C. Elevated microsites have moist graminoid, prostrate dwarf-shrub, forb, and moss tundra species (see also Unit G2).
a=acidic, n=non-acidic