Circumpolar Arctic Vegetation Unit G2

Barrens: B1B1. Cryptogam, herb barren - B2B2. Cryptogam barren complex (bedrock) - B3B3. Noncarbonate mountain complex - B4B4. Carbonate mountain complex || Graminoid Tundras: G1G1. Rush/grass, forb, cryptogam tundra - G2G2. Graminoid, prostrate dwarf-shrub, forb tundra - G3G3. Non-tussock sedge, dwarf-shrub, moss tundra - G4G4. Tussock-sedge, dwarf-shrub, moss tundra || Prostrate-shrub Tundras: P1P1. Prostrate dwarf-shrub, herb tundra - P2P2. Prostrate/hemiprostrate dwarf-shrub tundra || Erect-shrub Tundras: S1S1. Erect dwarf-shrub tundra - S2S2. Low-shrub tundra || Wetlands: W1W1. Sedge/grass, moss wetland - W2W2. Sedge, moss, dwarf-shrub wetland - W3W3. Sedge, moss, low-shrub wetland
Hierarchy of Geobotanical Vegetation Map Units (Walker DA 2002)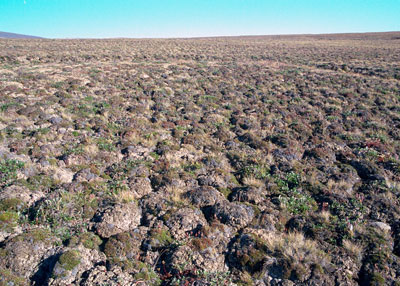 G2. Graminoid, prostrate dwarf-shrub, forb tundra
Moist to dry tundra, with open to continuous plant cover. Sedges are dominant, along with prostrate shrubs <5 cm tall. Subzone C, some Subzone B.
Detailed Description
Moist to dry tundra in Subzone C and warmer parts of Subzone B on fine-grained, often hummocky circumneutral soils with moderate snow. This is the zonal vegetation on nonacidic soils of Subzone C. Plant cover is moderate (40-80%) and 5-15 cm tall. The diversity of plant communities is much greater than in Unit G1 and includes Cassiope tetragona snowbeds, well-developed mires, and streamside plant communities.
Area: 429 x 1000 km2.
Representative Syntaxa
Communities of the class Carici-Kobresietea, e.g., Carici-Dryadetum integrifoliae Dan. 1982 (Greenland).
Dominant Plants
Sedges, rushes, and prostrate dwarf-shrubs are common. Other common plants include grasses, forbs, mosses, liverworts, and lichens.
a=acidic, n=non-acidic