Circumpolar Arctic Substrate Chemistry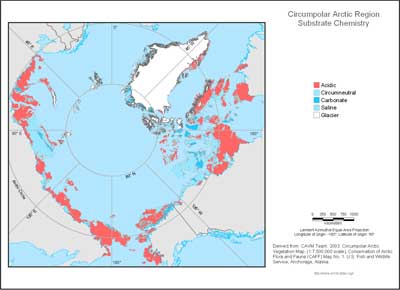 Vegetation patterns related to parent-material differences are extensive and important to global-scale vegetation patterns. There is a rich literature describing the peculiarities of floras and vegetation on carbonate, ultramafic rocks, saline soils, acidic and non-acidic soils, and fine- vs. coarse-textured soils in the Arctic (e.g., Cooper 1986, Edlund 1982, Elvebakk 1982, Walker et al. 1998), but unfortunately there are no global-scale base maps that show these essential differences in substrate chemistry for plant growth.
Some of the most important vegetation effects are related to substrate pH. The Substrate Chemistry map shows areas of acidic and circumneutral soils, and exposed carbonate bedrock. Generally, other chemical variations such as those found in serpentine soils, or saline soils are not extensive enough to be displayed at the circumpolar scale.