Alaska Arctic Plant Communities
8. Dryas integrifolia-Ochrolechia frigida
Photo A. Dryas integrifolia-Ochrolechia frigida community at Barter Island, AK. Elias et al., 1996, Fig. 6c. Photo D.A. Walker.
Enlarge image.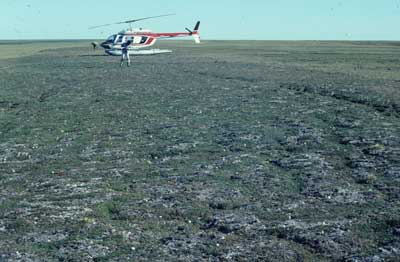 Photo B. Dryas integrifolia-Lecanora epibryon community on dry sandy terrace of the Kuparuk River on east side of the delta. Walker Slide 81-7-19. Photo D.A. Walker.
Enlarge image.
Floristic Subprovince: Northern Alaska
Substrate Chemistry: Nonacidic
Position along mesotopographic gradient: Dry exposed site
Summary of Habitat: Dry moderately exposed nonacidic cryoturbated soils in subzone C
Described from: Barter Island (Elias et al. 1996)
Common plant functional types and species:
Prostrate dwarf shrubs: Dryas integrifolia; Salix reticulata; Salix arctica;
Lichen: Ochrolechia frigida; Lecanora epibryon; Pertusaria spp.; Physconia muscigena; Thamnolia subuliformis; Flavocetraria cucullata; Flavocetraria nivalis; Cetraria islandica;
Sedge: Carex bigelowii; Eriophorum angustifolium ssp. triste;
Forb: Saxifraga oppositifolia; Artemisia comata; Cardamine digitata; Minuartia arctica; Papaver macounii; Pedicularis lanata; Pedicularis capitata; Tephroseris frigida;
Moss: Encalypta rhaptocarpa; Distichium inclinatum; Ditrichum flexicaule;
General Comments:
This type occurs on dry to moist nonacidic cryoturbated mineral soils near the coast in Subzone C of northern Alaska. It is a nonacidic counterpart to Community 1, which occurs on dry acidic sites. It is closely related to "Dry Dryas integrifolia, Saxifraga oppositifolia, Lecanora epibryon dwarf shrub, crustose lichen tundra" described from cryoturbated soils at Prudhoe Bay (Walker 1985). This type occurs on somewhat moister, more organic rich soils with more evidence of frost heaving than Dryas integrifolia-Carex rupestris subtype Oxytropis nigrescens, which also occurs in subzone C of northern Alaska on gravelly soils. It is not well characterized and could be grouped with Community 24, but the dry sedge Carex rupestris is usually absent and replaced by the more mesic sedge species Carex bigelowii and Eriophorum angustifolium ssp. triste.
Other names from the Alaska literature: