Alaska Arctic Plant Communities
7. Equisetum arvense-Cochlearia groenlandica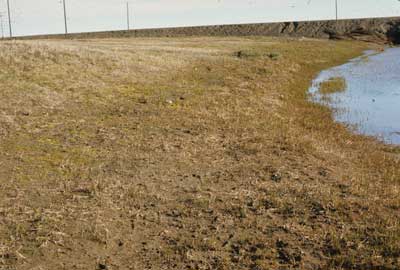 Photo A. Cochlearia groenlandica-Ranunculus pygmaeus community growing along Footprint Creek at Barrow, Alaska. Walker slide 74-46-15. Photo D.A. Walker.
Enlarge image.
Floristic Subprovince: Northern Alaska
Position along mesotopographic gradient: Snowbed, late-melting
Summary of Habitat: Sandy riparian areas areas in subzone C
Described from: Barrow
Common plant functional types and species:
Grass: Phippsia algida; Alopecurus alpinus;
Forb: Cochlearia groenlandica; Cerastium jenisejense; Petasites frigidus; Ranunculus pygmaeus; Stellaria humifusa; Saxifraga rivularis;
Moss: Bryum sp.; Campylium stellatum; Drepanocladus spp.; Pogonatum alpinum; Sarmenthypnum sarmentosum;
Horsetail: Equisetum arvense;
General Comments:
Streams in the coastal area near Barrow and along the northern coast of Alaska are incised into low marine terraces and often have deep snow in them during the winter. Slumping peat bluffs, constantly shifting stream channels, and occasional flooding by storm surges creates a mix of rudimentary plant species that are associated with a combination of riparian habitats, deep snowbeds, and saline coastal areas. The sites are often rich in species, but are highly variable in species composition. Equisetum arvense, Cochlearia officinalis, Alopecurus alpinus, Phippsia algida, Ranunuculus pygmaeus, and Stellaria humifusa are common species found in these sites.
Other names from the Alaska literature:
Nodum VIII, Cochlearia officinalis pioneer meadow, Barrow, 4 study plots, Webber (1978).
Includes Stand Type 15, Phippsia algida, Stellaria humifusa, Cochlearia officinalis, 8 study plots; and Stand Type 16, Dupontia fisheri, Alopecurus alpinus, Equisetum arvense, 6 study plots, Barrow, Walker (1977).