Alaska Arctic Plant Communities
13. Dryas integrifolia-Diapensia lapponica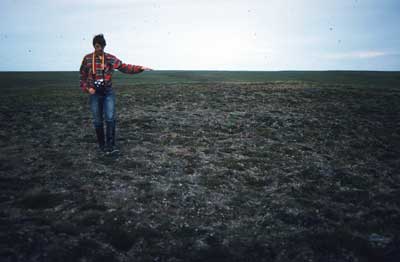 Photo A. Stabilized dune near Inigok drill site in NPR_A, Alaska, with Diapensia lapponica-Alectoria spp. community. Walker slide 82-8a-23. Photo D.A. Walker.
Enlarge image.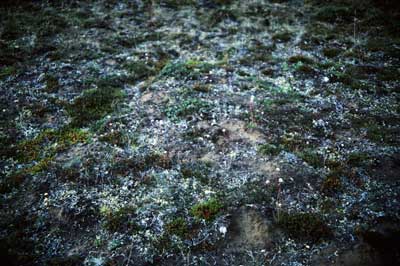 Photo B. Close up showing the cryptogam-covered surface (Alectoria nigricans and Gymnomitrion coralloides) with Cassiope tetragona and scattered forbs. Walker slide 82-8a-24. Photo D.A. Walker.
Enlarge image.
Floristic Subprovince: Northern Alaska
Position along mesotopographic gradient: Dry exposed site
Summary of Habitat: Stable dry to moist acidic sandy ridge crests in Northern Alaska
Described from: Atqasuk (Komárková and Webber 1980).
Common plant functional types and species:
Prostrate to hemi-prostrate dwarf shrubs: Salix phlebophylla; Cassiope tetragona; Vaccinium vitis-idaea; Diapensia lapponica;
Graminoid: Festuca brachyphylla; Hierochloe alpina; Luzula confusa;
Lichen: Alectoria nigricans; Sphaerophorus globosus; Bryocaulon divergens; Dactylina arctica; Cladonia spp.; Cetraria spp.; Thamnolia subuliformis;
Forb: Bistorta plumosa; Androsace chamaejasme;
Bryophyte: Gymnomitrion corallioides; Polytrichum strictum;
General Comments:
This type is common on dry acidic stabilized dune crests in the sand region of northern Alaska. It covers 3% of Komárková's Map 2 at Atkasuk. However, it is poorly described at present, with no good relevés. The only characterization is from Atqasuk where a summary table presents the range of cover values from an unknown number of relevés (Komárková and Webber 1980). Characteristic species are abundant Cassiope tetragona, Salix phlebophylla, Diapensia lapponica and abundant acidiphilous lichens.
Other names from the Alaska literature: